We use insights from sound healing, neuroscience and technology to amplify the feeling of wellbeing, reduce stress levels
and to reach more desired brain states and even altered states of consciousness.
Customers can relax themselves in our immersive experiences and therefore increase their feeling of well-being.
New audio perception experiences.
A transformative journey through different experiences developed
to amplify the benefits of sound for well-being in a three-dimensional environment.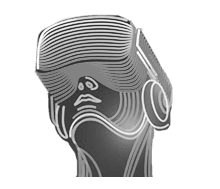 EXTENDE REALITY (XR TECHNOLOGIES)
What if you could fully customize your meditative listening experience in Virtual Reality?
Controlling, mixing and placing any single element of a track in an immersive 3d environment?
From passive to active listening.
Humans have just two ears, but can locate sounds in three dimensions.This can bring out a deeper experience of the sound and benefits of the music. A silent concert in binaural uses these effects. 
Feel yourself in the middle of the sound and become part of this immersive sound healing journey. 
DJ WELLBEING
Virtual Reality experience
The first virtual reality app that allows you to control any single element of a music track.
You can finally interact with music by creating your custom listening experience.
FOR ENTERPRISE
Interactive / In control of your own experience
Active listening
Created to experience more well-being and to relax yourself
DJ WELL- BEING HAS BEEN SELECTED BY THE EUROPEAN MUSIC MARKET ACCELERATOR JUMP EU.  ( READ MORE ) 
VALUES
Interactive / In control of your own experience
Active listening
Created to experience more well-being and to relax yourself
The user can create his own experience of relaxation and wellbeing, using a virtual DJ console that will allow them to edit, mix, add and move sound objects and environmental effects on a 3D plane.
The DJ console is the heart of the experience, from the display you can select different types of sound sources.
Think of ASMR, a specific frequency, a gong or ambient sounds, a mantra etc etc. All the instruments can then be positioned in the specially created 3D space.
In addition, the overal sound will be influenced by the environment of the scene, making the overal experience interactive and dynamic.
The experience is suitable for more quiet area's to help relax visitors, co-workers and participants and give them a meaningful experience.
Sound healing techniques to induce more relaxation audio objects / stems:
Sound healing pure frequencies (Chakras, Solfeggio, Planets etc)
Binaural beats 
Drone sound
Tibetan bowls
Hang / Pan drums
Different type of noise ( White, Pink, Brown etc )
Sympathetic resonance of the piano forte
Overtones 
Tuning forks
Healing chants
ASMR spoken words
Resonance phenom by triggering various instruments
Eco and reverberation of the natural diffraction and reflection of a 3D environment
THE MIXER FUNCTION
Behind the active listening experience
Audio volume level perception from the point of view of the listener.
GAME PLAY 
example of a relaxing music structure:
The music track is divided by different audio sources / stems you can mix, move, mute or solo any single sound in the 3D space.
The Music Ally's report reads:
"There is something powerful to be explored at the intersection of virtual reality and health-tech.
Flower of Sound is a good example of that, with an app currently in beta designed for VR headsets like Meta's Oculus Quests.
Its tagline is "Be the DJ of your own well-being".
What that means is a meditation app using spatial audio, but with the listener playing a far more active role than simply sitting back and blissing out.
Here, users will be able to interact with the individual sounds and move them around their virtual environment.
Flower of Sound has already joined two schemes – the Jump European Music Market Accelerator and the Music Tech Europe Academy – to help as it prepares for launch."